Patrons, families and friends of Crossfit EOS. Please be advised that as of the end of the Crossfit Open, April, 7th, we will be taking a short break from our diligent pursuit of elite fitness. I anticipate that we will be reopen for beatdowns sometime in the early summer of this year. We will most likely be in a different location with a smaller more concentrated core of athletes. Class sizes will be limited! Our goal at that time, as always, will be to help you realize your full physical potential.
Tim Romanski --Crossfit Eos--
CONTACT US
---
Phone:
Tim at 814-572-2323
email me at:
tim@crossfiteos.com
CROSSFIT EOS
ERIE, PA
---

Leave no question about who has the edge, you or the competition.
If you are CrossFit...then it will be obvious.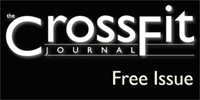 "What is Fitness?"

An excellent article that will make you think about fitness from a whole new perspective.
"Foundations"

A powerful explanation as to why CrossFit is important to everyone's well being.
Towering genius disdains a beaten path. It seeks regions hitherto unexplored.
-Abraham
Lincoln
---
Is this your first time looking into Crossfit? Are you looking to become a firebreathing animal or just get out of that rut of complacency? Whatever your goal is we are here to make it a reality. Call today... It really is that easy!!!
---
---
DISCOVER ELITE FITNESS...
"Specializing in the fabrication of elite human machinery since 2008."
--Crossfit Eos--
---
---